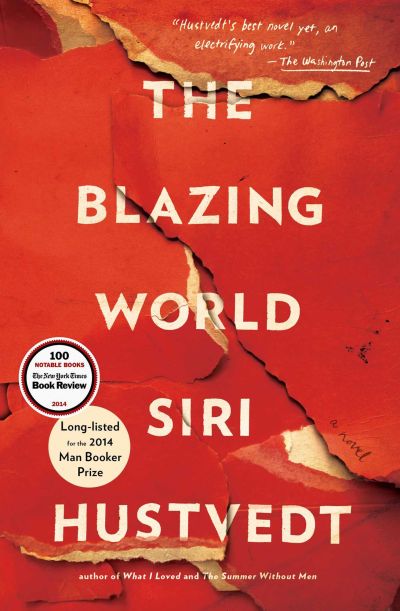 The Blazing World
From the internationally bestselling author, praised for her "beguiling, lyrical prose" (The Sunday Times Review, UK), comes a brilliant, provocative novel about an artist, Harriet Burden, who after years of being ignored by the art world conducts an experiment: she conceals her female identity behind three male fronts.
Presented as a collection of texts, edited and introduced by a scholar years after the artist's death, the book unfolds through extracts from Burden's notebooks and conflicting accounts from others about her life and work. Even after she steps forward to reveal herself as the force behind three solo shows, there are those who doubt she is responsible for the last exhibition, initially credited to the acclaimed artist Rune. No one doubts the two artists were involved with each other. According to Burden's journals, she and Rune found themselves locked in a charged and dangerous psychological game that ended with the man's bizarre death.
From one of the most ambitious and internationally celebrated writers of her generation, Hustvedt's The Blazing World is a polyphonic tour de force. It is also an intricately conceived, diabolical puzzle that addresses the shaping influences of prejudice, money, fame, and desire on what we see in one another. Emotionally intense, intellectually rigorous, ironic, and playful, this is a book you won't be able to put down.
"The Blazing World offers a spirited romp...constructed as a Nabokovian cat's cradle....Hustvedt's portrait of the artist as a middle-aged widow is searingly fresh. It's rare to encounter a female protagonist who throws her weight around quite so grandiloquently as Harriet Burden, a heroine who is—well, more like the hero of a Philip Roth or a Saul Bellow novel." —New York Times Book Review
"Ingeniously and energetically put together. . . . The Blazing World never runs out of steam in dispensing ideas and peeling back layers of truth." —Chicago Tribune
"Incandescent. . . . Hustvedt's greatest triumph here is not the feminist argument she makes. It's that we ache for her characters. This is a muscular book, and just enough of that muscle is heart.." —The Boston Globe
"A glorious mashup of storytelling and scholarship. . . .[The Blazing World's] touching conclusion 'blazes hot and bright' from the perspective of an aura reader, Harriet's caretaker, whose vision of the artist's work is at once spiritually charged and whimsical." —The San Francisco Chronicle
"The Blazing World is unique and recognizably so, a bracing examination of the act of creation, of fame and identity, gender bias and feminism, love and desire, psychology and philosophy. . . . Full of life and ideas and intellectual prowess, it's also a compelling story with richly drawn characters. . . .[An] extraordinary puzzle." —The Miami Herald