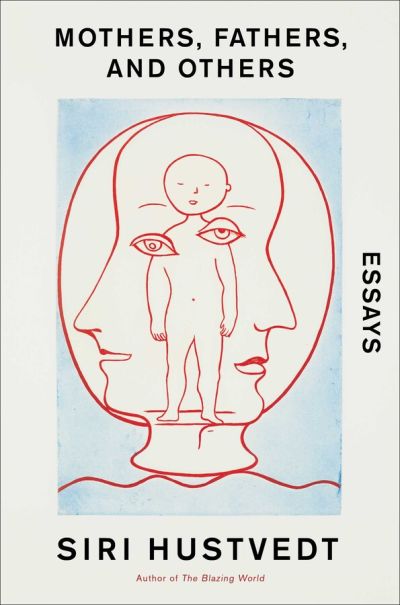 Mothers, Fathers and Others
Feminist philosophy meets family memoir in this new essay collection from Siri Hustvedt, an exploration of the shifting borders that define human experience, including boundaries we usually take for granted—between ourselves and others, nature and nurture, viewer and artwork—which turn out to be far less stable than we imagine.
Described as "a 21st-century Virginia Woolf" in the Literary Review (UK), Man Booker longlisted Hustvedt displays her expansive intellect and interdisciplinary knowledge in this collection that moves effortlessly between stories of her mother, grandmother, and daughter to artistic mothers, Jane Austen, Emily Brontë, and Lousie Bourgeois, to the broader meanings of maternal in a culture shaped by misogyny and fantasies of paternal authority. Mothers, Fathers, and Others is a polymath's journey into urgent questions about familial love and hate, human prejudice and cruelty, and the transformative power of art.
This moving, fierce, and often funny book is finally about the fact that being alive means being in states of constant, dynamic exchange with what is around us, and that the impulse to draw hard and fast conceptual borders where none exist carries serious theoretical and political dangers. On sale December 7, 2021. Pre-order available now.
"Another outstanding compilation of essays from Hustvedt. As in her previous standout collections, the author shares personal, familial stories as well as incisive ruminations on a breadth of literary, political, arcane, and germane subjects. These 20 essays and lectures, 12 of which have been previously published and/or delivered in some other version, were penned between 2017 and 2020. The first pieces are more biographical than those that follow. Early on, Hustvedt deftly chronicles her mother's time in Nazi-occupied Norway as a student at the University of Oslo, her grandmother's life in rural Minnesota, and her own burial plans. Although each essay is a stand-alone piece, their cumulative effect is staggering. Themes related to sexual hierarchies abound, whether the author is investigating Wuthering Heights, childhood patterning, or artist Louise Bourgeois. "The simple fact that every person begins inside another person haunts motherhood," she writes. Throughout, Hustvedt questions maternal archetypes and ideology: "Mother ideas invade mothering with a stark morality of good and evil that rarely touches fathering"; "Pregnancy is a chimeric state, and the chimera is still a terrifying animal because it involves mixing"; [Misogyny] is a strange hate…because every human being was born from a woman or person with female reproductive organs"; "That the body, emotion, and nature have been associated with passive femininity, and the mind, reason, and culture with active masculinity is a given in the Western tradition." The author, one of our most appealing literary polymaths, quotes innumerable resources, and she maintains a pleasingly nuanced balance between striking originality and intellectual synthesis. Pluralism also resonates as a topic relevant to both parenting and literature. "Human beings engage with a book, especially a novel, with an intimacy that does not pertain to most other inanimate objects. Reading is a form of ordinary possession of one person by another," she writes, delineating why art cannot be confined to a fixed location nor books (like motherhood) to a single meaning.
Brilliant and utterly transfixing."—Kirkus
"Profound.... Hustvedt pulls from psychoanalysis, philosophy, literature, and art criticism to make brilliant connections among her takes on the world. Fans of Hustvedt's work will welcome this, and those less familiar will delight in discovering her witty, lavish style."—Publishers Weekly
Virginia Woolf's Mrs Ramsay was the "angel in the house", a submissive middle-class woman, trapped into a domestic space, and, as Woolf writes herself, "Killing the angel […] was part of the occupation of a woman writer." In a new collection of essays entitled Mothers, Fathers and Others, Siri Hustvedt takes feminist discourse to a new level, talking about "the legacy of the Angel" in contemporary Western culture through the prism of her personal life experience as a granddaughter, daughter, wife, mother and a female author.
Sex difference is still a crucial part of the contemporary world – scientific fields, colours and even food are gender-specific: "…steak is masculine; salad is feminine. Pink is for girls. Blue is for boys". Even in the description of the fertilisation process, the ovum is assigned the role of a passive prize, for which the sperm overcomes obstacles, while recent studies show that this metaphor appears to be wrong.
The essays range from memoirs to anthropology, politics and literary criticism. Hustvedt shares the story of her family to demonstrate the invisible bond that connects us to one another. We are made of the experiences and lives of our ancestors, and their heritage: "…there are the memories of others that we adopt and catalogue with our own, sometimes confusing theirs with ours".
Mothers, Fathers and Others is a powerful collection with an impressive variety of disciplines through whose prism the themes of art, motherhood, neuroscience, misogyny and sex are revealed. It is an engaging and educational read that makes a valuable contribution to contemporary feminist discourse. —Elizaveta Koloseva, The Upcoming