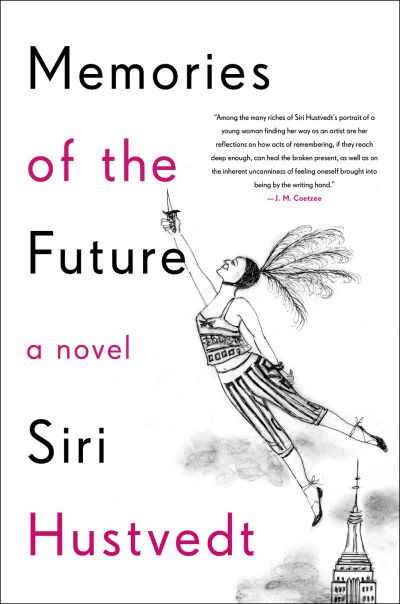 Memories of the Future
A provocative, wildly funny, intellectually rigorous and engrossing novel, punctuated by Siri Hustvedt's own illustrations - a tour de force by one of America's most acclaimed and beloved writers.
Memories of the Future tells the story of a young Midwestern woman's first year in New York City in the late 1970s and her obsession with her mysterious neighbor, Lucy Brite. As she listens to Lucy through the thin walls of her dilapidated building, S.H., aka "Minnesota," transcribes her neighbor's bizarre and increasingly ominous monologues in a notebook, along with sundry other adventures, until one frightening night when Lucy bursts into her apartment on a rescue mission.
Forty years later, S.H., now a veteran author, discovers her old notebook, as well as early drafts of a never-completed novel while moving her aging mother from one facility to another. Ingeniously juxtaposing the various texts, S.H. measures what she remembers against what she wrote that year and has since forgotten to create a dialogue between selves across decades. The encounter both collapses time and reframes its meanings in the present.
Elaborately structured, intellectually rigorous, urgently paced, poignant, and often wildly funny, Memories of the Future brings together themes that have made Hustvedt among the most celebrated novelists working today: the fallibility of memory; gender mutability; the violence of patriarchy; the vagaries of perception; the ambiguous borders between sensation and thought, sanity and madness; and our dependence on primal drives such as sex, love, hunger, and rage.
"Few contemporary writers are as satisfying and stimulating to read as Siri Hustvedt. Her sentences dance with the elation of a brilliant intellect romping through a playground of ideas, and her prose is just as lively when engaged in the development of characters and story. Her wonderful new novel, "Memories of the Future," is, among other things, a meditation on memory, selfhood and aging, but the plot is driven by the encounters of a present-day narrator with the young woman she was when she moved to New York City in August 1978. The drama that arises from these encounters is a reckoning between male privilege and female rage as timeless as "Medea" and as contemporary as #MeToo.
"S.H.," a recent college graduate from Minnesota, has come to Manhattan to write a novel. But it's hard to concentrate in her run-down apartment on West 109th Street; the walls are thin, and she can hear her neighbor intoning, "Lucy's sad, she's sad, I'm sad." S.H. works fitfully on her novel, distracted by the angry conversations and mysterious sessions of chanting and drumming taking place next door. She speculates about them with her "gang of five," a group of young, ambitious intellectuals who become lifelong friends. With them, she ventures from poetry readings to "midnight forays into urban decadence" at Studio 54 and the Mudd Club. One of these late-night excursions exposes S.H. to an act of male violence that still unnerves the narrator 38 years later. "The memory hurts me — hurts me now," she writes. "And that is how the past stays alive."" —Wendy Smith, Washington Post
"At the close of the 1970s, an aspiring writer from Minnesota has given herself a year to complete a novel before starting graduate school. She moves to New York, finds a grubby little apartment, copes with loneliness and hunger, and listens through the wall as her neighbor Lucy Brite darkly chants, "I'm sad." The writer chronicles her increasingly bizarre, intermittently funny, ultimately traumatizing experiences in a journal to which we're privy; we also read her novel about two teen sleuths, Ian (enthralled by Sherlock Holmes) and Isadora (refusing to play Watson). In the present, Hustvedt's sixtysomething narrator muses over her past, reaching back to wounding childhood moments, and ponders, with stirring lucidity, time, memory, self, and the role stories play in this quicksilver triad. Young S. H. (sharing initials with Holmes and Hustvedt) befriends daring and creative women; pursues a fascination with the underappreciated, real-life artist Baroness Elsa von Freytag-Loringhoven (1874–1927); and is drawn into Lucy's mysterious circle, where she confronts puzzles philosophical, mystical, and empirical. Various forms of detection, anchored to Hustvedt's deep knowledge of neuroscience and art, propel this lusciously layered and suspenseful "portrait of the artist as a young woman" and rapier attack on sexism electric with wit, curiosity, and storytelling magic." —Booklist
"An author named S.H. finds the journal she kept during her first year in Manhattan in the late 1970s, unlocking memories of a quirky neighbor, a half-finished novel, and a disastrous date. "We differ, my former self and I. It was impossible for me to know at twenty-three that the dreadful phrase 'life is short' has meaning, that at sixty-one I know there is far less ahead of me than behind me, and that while she wasn't terribly curious about herself as herself, I have become curious about her as an incarnation of hopes and errors that had or seem to have had a determining effect on what I am now." Back then, S.H. was called Minnesota by her friends. She was trying to write a novel about a teenage detective who worships Sherlock Holmes (hmmm, also S.H.!). She had a best friend named Whitney whom she met at a John Ashbery reading in SoHo; Whitney made "poem-objects" and wore green high heels and a yellow beret. Financially, however, things weren't going so well—Minnesota was reduced to scavenging for dinner in trash cans before she landed a job ghostwriting the memoirs of a socialite named Elena Bergthaler. Meanwhile, she spent a good portion of every day eavesdropping on her next-door neighbor, Lucy, a woman whose conversations were so strange and filled with violent imagery that Minnesota and her friends developed wild competing theories to explain them. None were stranger than what turned out to be the truth, which Minnesota learned after Lucy emerged from her apartment one night to save her from an evil young man. The book includes whimsical illustrations by the author, among them a caricature of Donald Trump with S.H.'s 94-year-old mother's comment as caption—"Can that man be president?" Like all the best postmodern novels, this metafictional investigation of time, memory, and the mutating self is as playful as it is serious." —Kirkus